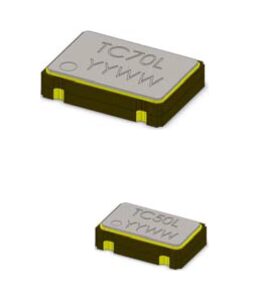 CTS Electronic Components, Inc. announces development of four new product platforms, TC70, TC50, TC32 and TC25 Series clock oscillators operating at a frequency of 32.768 kHz. The new series clocks are housed in standard 4-pad ceramic surface mount packages at the following sizes; 7.0mm x 5.0mm, 5.0mm x 3.2mm, 3.2mm x 2.5mm and 2.5mm x 2.0mm, respectively. Ideal for applications requiring a real time clock reference [RTC] including wireless communications, test and measurement, portable devices, FPGAs, PDAs, mobile phone, notebooks and other consumer products.
The TC Series platforms offer operating voltage options of 3.3Vdc, 2.5Vdc, 1.8Vdc or 1.5Vdc. Standard frequency tolerance is ±25ppm over the operating temperature range of -40°C to +85°C. Additional tolerances at ±50ppm and ±20ppm are available along with two commercial temperature range options.
Optimized to operate at a typical load capacitance of 15pF, the TC Series products are RoHS compliant and shipped in standard tape and reel packaging. For more product details, pricing and lead-time, please contact your local Catalyst Sales Representative.