CIT has the largest as well as the most customizable selection of anti-vandal switches of all of their competitors. Anti-vandal switches can be found on kiosk and public ticket dispenser applications, along with other industrial type applications that require vandal resistance in a public setting. With a wide variety of options, including illuminated, sealed and long life expectancy.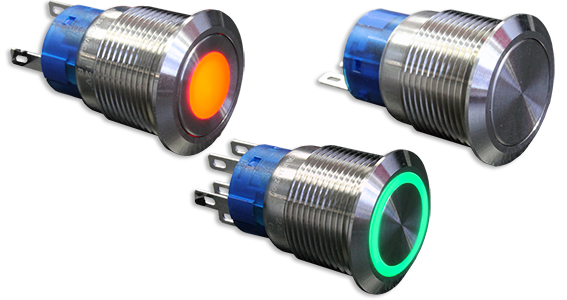 CIT Relay & Switch is an industry leading manufacturer of RoHS compliant electromechanical relays & switches. With unsurpassed efficiency in producing samples up to production quantities, their industry leading test lab and highly skilled engineering staff, they are able to offer a completely integrated solution for their customers' design needs.
The CIT Relay & Switch Anti-Vandal family of switches offers IP65 sealed pushbutton style in sizes ranging from the 12mm EH Series up to the 40mm DH Series. Styles offer both ring and dot illumination and non-illuminated options. Choose the EH Series for a rounded convex actuator or the AH, BH, CH or DH Series for a flat actuator. Choices of body and actuator color include Stainless Steel, Nickel and Anodized Aluminum in Black, Red, Yellow, Green or Blue. Our versatile switches provide design engineers with several LED color choices. Bi-color choices make endless the combinations and applications for these popular switches. These switches can be used for Panel Mount applications, and some are UL Approved along with a momentary and latching option.
Lead-time averages 6 to 8 weeks. Volume pricing is dependent on option choices.
CIT RELAY & SWITCH, a division of Circuit Interruption Technology, Inc., manufactures a broad array of automotive, telecom, security, industrial and audio relays and switches in thru-hole, panel, and surface mount styles. CIT RELAY & SWITCH products are supported by a worldwide network of distributors and sales representatives. For more information about the CIT RELAY & SWITCH Anti-Vandal switch or any of the CIT switch or relay products, contact your Catalyst Sales representative for further information and visit our website at www.catalyst-sales.com.